Introducing a Truly Revolutionary Software Program Designed to Manage and GROW Your Service Business!
...Fully Automated!
...Track Every Aspect of Your Business!
...No Complicated mumbo jumbo!
...100% of the Features Can be Used!
...Affordable!
Dear Service Business Owner/Manager:
I'm about to show you a software product that'll take your service business to a whole 'nother level of success. So I encourage you to pop open a cold beverage, take your shoes off, kick back, and relax. We're about to have some fun.
But before getting to the nitty gritty, I'd like to first answer the main question that I get all the time: What businesses will your software work for? The answer?
Window Cleaners
Maid/Cleaning Services
Carpet Cleaners
Pressure Washing Companies
Landscapers
Handyman Services
Pool Cleaning
Tree Service
Air Duct Cleaning
Dryer Vent Cleaning
Blind Cleaning
Chimney Sweeps
...and any other service oriented business that you can think of which focuses on capturing repeat business.
There are lots of software products out there that try and be all things to all businesses, but our specialty has been and always will be in helping the small to mid size service business owner who wants to fully capitalize from repeat business. Our follow up and customer capture processes are second to none which ultimately means more profits for you.
Of course there is much more included as you'll see below. I'll get to that in a minute. But first...
My background is as a window cleaner so I know first hand what owning and running a service business is all about. And one of the things that I understood early on is that having the right piece of software to manage/run my business determined whether I was successful or not.
I used to use cumbersome manual processes like working with index cards. Talk about a time waster. Then I purchased accounting software that took care of invoicing and maintaining my customer database, but there wasn't an efficient follow up system included.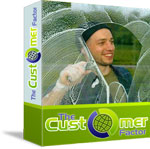 So I just couldn't find a program that could do 100% of what I needed it to do. Sure...there is accounting software that'll track sales, create invoices, and keep customer databases (even some free online programs will create customer databases for you). And yes, there is contact management software available for tracking customers (but what about prospects?) And sure, you can use online calendars to do some scheduling.
And there are even a few software programs out there for service businesses, but after my testing, these programs still lacked features that I needed for my business! It's almost like the software developers have never owned a service business before.
After my lack of success in finding a software product that I could use and benefit from, I finally just threw up my hands and decided to create the software myself. There were quite a few people who thought I lost my marbles. But I knew there was a clear need for a software program like The Customer Factor. After all, if I couldn't find a suitable software product to use as a result of my extensive research, I'm sure other service business owners were in the same pickle.
So after hundreds of hours in development, a whole lot of money invested, and more sleepless nights than I can count, voila! The Customer Factor was finally launched in November 2004, and it's been a true success story for the hundreds of service business owners/managers who use it every single day.
So now let's jump into EXACTLY what The Customer Factor will do for YOU!

Importing

Well...we have to start somewhere, so let's get this out of the way right up front. If you have a bunch of customers in a current software program or in a spreadsheet, you can export them out of there and "import" them into The Customer Factor. We've created an "example" file for you to follow, but it's easy to prep your file and get it ready for importing. Then just login to the software, navigate to the "Import" screen, and click a button. Bingo! Your business is ready to roll.

Calendars

We offer daily, weekly, and monthly calendars for your convenience. Appointments are color coded. And with our drag/drop rescheduling feature, in a fraction of a second you can have an appt. rescheduled in its new day and/or time. You can also add personal appointments and "tasks" directly to the weekly or monthly calendars. And do you want to see only the appointments scheduled for a particular employee or crew? No problem. You can even print the calendars in pdf format with or w/o job pricing showing. And on the daily calendar you'll be able to print invoices for all customers scheduled for that day by clicking one "Print All Invoices" button. In literally 5 seconds you could have a half dozen invoices printed along with your daily calendar and you're ready to go for the next day!

Update: You can now color code employees and crews on the calendars!

Prospects

Prospects are an important part of our business. But for some reason, we've actually seen software products that don't provide you the ability to work with prospects. Not everyone says "yes" right away to your service when you present your pricing to them. So it's a must to follow up with them. Inside The Customer Factor, you'll be able to add prospects, search for them, and track them until they turn into customers. We've even placed the 2 most important prospect searches right on the home/quick summary screen. So as soon as you login, you'll know right away who needs to be contacted and followed up with.

Customers

Add your customers to The Customer Factor database and watch the magic begin. Many service business owners focus on always getting "new" customers. But the true value of a customer is in the repeat business you get from them. So our software encourages you to set a "frequency period" for each customer. And whenever your customers are due to be serviced again, The Customer Factor will display them for you. There's nothing for you to do! Just click on a link and contact 'em. It doesn't get any simpler than this. You'll never lose any more jobs due to customers falling through the cracks!

Scheduling

It's super simple to schedule customer jobs. A couple of clicks and it's done. And the jobs populate on all 3 calendars. Most times you'll be scheduling a specific job for a customer on a specific day or over multiple days, but you may have customers who need your services regularly like "Every Monday", "Every Third Tuesday of the Month", etc. etc. So when scheduling these types of jobs, you can set 'em up on a "recurring" basis. A wide variety of recurring periods are available for you to choose from.

**Just Introduced: You can now schedule all appointments directly from the calendar screens. In one "quick add" window accessed from the calendars, take care of scheduling estimates, jobs, personal appointments, and tasks. Scheduling is a breeze!

Photograph & Document Uploads

With this feature you can upload up to 6 photographs and up to 6 documents for each prospect and customer in The Customer Factor. Maybe you have a photo of a customer's home you want to keep on file or perhaps there's a contract that a customer signed that you need to keep with the customer. Just browse for the photo or doc on your computer, give it a title, and click "Upload". The software will take care of the rest and insert it neatly into that prospect or customer's profile screen. This is a great way to keep a visual of job sites or make sure you don't misplace any documents that belong to a particular prospect or customer.

Create Prospect AND Customer Estimates

Although the ability to create estimates for prospects has been available for a few years, we've recently introduced into The Customer Factor the ability to customize and create estimates for your customers. Maybe a customer who you've serviced with one type of job wants an estimate from you for a different type of service that your business provides. So use this feature to get it done. You can even insert a company logo and add some personalized text to your estimates and really make 'em stand out. And when they say "yes" to the estimate, click the "schedule" link to convert the estimate into an actual scheduled job. Can't get any easier than this.

Custom Fields

You can create an unlimited number of custom fields for each prospect or customer. When created, they'll carry across all prospects and customers so that there is no need for duplicate custom field creation. There are so many uses for this feature that we can't even scratch the surface of what you can do with it. Want to keep track of prospect or customer birthdays? Want to create fields where you can list prices for each item or service you provide? Literally anything you can think of, you can create. And again...it's unlimited!

Personalize It!

With our "Personalize It" feature, you can can create all kinds of different personalized letters for prospects or customers like reminder letters, follow up letters, thank you letters, special "new service" announcements, and estimate packages as a few examples. And each letter can be personalized based on how you want it personalized! You have the option of printing an individual letter for a single prospect/customer or you can print multiple letters all with a single click of the "print" button. This "Personalize it!" feature will really maximize your relationships and increase your bottom line profits! And if you're doing any bulk mailing, you can use our print label feature to print out mailing labels (with or w/o "or current resident" in each label) in black ink or in your choice of six different colors if you have a color printer.

Print Work Orders

Directly from the daily calendar you can click a "print all work orders" button to print work orders for all jobs to be done that day. Have the customer sign the top half, give 'em the bottom half, and you're good to go. If some jobs don't require work orders because they just get invoiced, then you can select which jobs you want to print work orders for and click the available "print selected work orders" button. Each work order that prints can be fully personalized with your logo and other information to "spice" it up.

Invoices

We currently offer four different customizable invoice formats where you can add your company logo, insert some personalized text, add a coupon, choose what you want to appear on the invoice such as customer ids, qty/each information, custom fields, service person details, and much more. With our extensive customization capabilities, you'll be able to create the perfect "look" to your invoices so that you can present professional, high impact invoices to your customers.

**Just Introduced: There is now an entire invoice history area available so that you can track invoices from the moment they're created to the moment they're paid. For example, if you email a customer an invoice, it populates in the history area and gets date stamped. Or maybe you print a payment reminder. It'll say "Printed Payment Reminder" in invoice history along with the date. So periodically you can search for unpaid invoices, check out their history, and monitor the invoices. For instance maybe after emailing an invoice, emailing a payment reminder, and printing a payment reminder, the customer still doesn't pay you. So maybe you want to call the customer and provide them a gentle reminder that you need to get paid. Simply click an "add" link, insert the gist of your conversation, and it'll be date stamped so you can reference it later if needed.

Email Anything!

This is our most widely used feature. You can literally email anything to anyone within The Customer Factor. This includes invoices, estimates, statements, and payment reminders. You can cc a copy of any email to yourself and you can create templates to use over and over again in either regular text format or in html format (with this format you can insert logos, decorate text, and more). We even provide a number of email samples that you can edit to fit your business. And each email can be personalized with the person's information in it!

In addition to being able to email invoices, estimates, statements, and payment reminders from within The Customer Factor, you can also send general/broadcast emails to your prospects and customers! Send individual emails or send hundreds or thousands of emails all at once. Some examples of what you can do with this feature: Maybe you have 6 appointments lined up for tomorrow. You can do a customer search for "tomorrow" appointments the night before they're scheduled and send each of them an appointment reminder email just like that. Or maybe you need to announce a new service to your customers. No problem. Search for "all" customers and send each one of them a personalized email with the news and make more sales! Or maybe you want to email your customers a newsletter or maybe an update on occasion. Staying in touch can mean the difference between a good business or a great business. And we've made it as easy as possible for our members to do with this powerful feature.

Hot Tip: If you don't have many customer email addresses on file because you haven't had the need for 'em until now, we even provide tips on how you can easily get your customers to give you this information. The key is to collect as many as you can and let the built in automation do the work for you. These strategies are all located in our Update Center which you can access when logged into The Customer Factor!

Reports

The Customer Factor provides you the ability to search for any kind of report you need. Sales, Profit & Loss, Taxes Collected, Expenses, Income Forecast, how many customers (or prospects) you've added to your business (and when), what marketing method works the best, all archived customers, mileage driven, and literally dozens more!

You can even retrieve reports that tell you how much money you made for a specific job that your business offers to customers, the # of customers who had that job done, and how much the average amount of money you made per customer for that job. Plus you can break this information down by City or State if you happen to do business in multiple locations. Bottom line...our report feature will flat out give you the information you need when you need it!

Income Forecasting

This is actually a "Report" so I guess it could just be included in the above "Reports" section and left at that. But this is too powerful to not talk about further. How would you like to know what you might earn next month, next quarter, in 2013, 2014, or any date in between? That's what this income forecasting feature is all about. It allows you to peek into the future. The Customer Factor crunches the numbers and then provides you with what your forecasted earnings will look like for whichever time period you searched for. Future income is not guaranteed of course, but if you use The Customer Factor regularly to follow up and contact your customers, there is a great chance your income forecast will come true. Highly motivational!

Reminders

How would you like to be reminded every morning what needs to be done? This is about as automatic as it gets. Simply choose what you want to be reminded of on the "Settings" screen. You can then select to receive your reminders via email if you want to. And daily just like clockwork, you'll receive an email with a complete list of what you need to do for the day. An outstanding feature!

Employees/Crews

Add employees to The Customer Factor and/or create "crews". When you're scheduling a job for a customer, you'll be given the option to easily assign any employee or crew to that job. You can view jobs on any of the daily, weekly, or monthly calendar screens based on "employee" or "crew". And then you can print the calendars (in regular or pdf format) with only the employee/crew jobs listed so that you can email or give 'em the calendar showing them exactly what appointments they are responsible for.

Google Maps Integration!

To avoid wasting time figuring out how to get to your appointments, we recently introduced Google Maps into The Customer Factor. You can view/print directions from within any prospect or customer profile screen or for the ultimate in simplicity, visit the daily calendar and click the "view daily directions" button to print your directions for the day.

Hot Tip: We place a huge emphasis on minimal clicks and no wasted time, so with this said, you can go to the daily calendar and do the following: 1) click the "print daily calendar" button to print the calendar so that you have the specific appointment information; 2) click the "print all invoices" button to print all invoices for the day in literally seconds (invoices are already populated with the proper information and ready to be presented to your customers) and; 3) click "view daily directions" to print your daily directions. It really can't get much easier than this!

Data Backup and Exporting

For your extra peace of mind and security, you can backup all of your data in The Customer Factor to your computer, a CD, or any other format. It's very easy to do if you're not sure about how to backup data. If you can click a button, you can backup your data in The Customer Factor. You can also export prospects and customers in multiple formats.

QuickBooks Ready

If you are a QuickBooks user, you can now transfer data from your account with The Customer Factor directly into QuickBooks. No more duplicate entry! And the data transfer process is so simple. All you do is download a special piece of software that allows The Customer Factor to "talk" to your QuickBooks program. You can even set it up to "auto-run" so that your data will transfer into QuickBooks every x number of minutes or hours automatically.

Note: You don't need Quickbooks in order to use The Customer Factor. We built our software program to be totally stand alone. However there are some diehard Quickbooks users out there, so if you're one of them, you'll love this feature!

Sync with your Google Calendar!

If you use google calendars, you'll be glad to know that our calendars sync up with google. So if you schedule appointments in The Customer Factor, they'll appear in Google almost
simultaneously. And if you schedule appointments in Google, they'll populate within The Customer Factor calendars right away. Again, it's a real time sync. You can also share your google calendars with other subusers and even restrict their ability with what subusers can do to the appts. (ie: prevent them from editing or deleting appointments) from within the google calendars you're sharing with them. Lots of functionality packed into this one feature!

Internet/Web-based

If you have internet access, you can login to The Customer Factor from any computer in any part of the world 24 hours a day, 7 days a week, 365 days a year. Insert your username and password and bada bing! No more being tied to one computer. Most times with software you are given one copy to download onto one computer. In this mobile society, who wants to be restricted to one computer with all your business data on it? Many of our members access their data out in the field away from the office using laptops, iphones, palm pilots, blackberries, etc. Again, as long as you have internet access, you're in.

Unlimited Users

You can set up an unlimited number of users to login into your account with their own username and password information directly on the "manage users" screen. Some software products on the market today limit how many users can use the software that you purchased. For example, a software product might grant access to 3 users and if you want to create more users, it'll cost you more money. We believe that there shouldn't be any limits on how many people can use a software program that you purchased! This is just another way for software developers to squeeze more money out of you. With The Customer Factor, there are no restrictions!

In addition to allowing for an unlimited number of users, you are able to create users as either "administrators" or "non administrators". Administrators have full access to your account and can see everything that you can see. Non administrators can only see the screens you want them to see. This is really an incredible feature! If you don't want a user to see your reports or nosing around customer invoices for example, then you can easily prevent them from accessing those screens. This was a major feature to create, but our members are loving it, so that's all that matters.

Plus...you can now create subusers/non administrators and make it so they can only view the jobs they've been assigned to. So if you have an employee or multiple employees that you assign to customer jobs, make each one a subuser of your account, prevent them from accessing certain screens, restrict it so they can view only their appointments, and you're good to go!

Features Galore...

There are sooooo many features and benefits within The Customer Factor that we simply don't have room above to discuss all of them in detail. So below we've posted a few more feature "summaries" and some recent upgrades:

Multiple job locations - create additional job locations for customers and assign these locations to any jobs that you schedule.

Time "range" - schedule jobs with a single time (Ex: 9:00am) or a time "range" (Ex: 9:00am to 1:00pm).

"Specific" notes - In addition to our "general" notes and "directions" areas in The Customer Factor, the specific notes area allows you to "date stamp" specific customer notes.

Archiving - This is great for when you know someone will not use your service again but you don't want to delete them from your account. And you can "undo" an archived prospect/customer with one click.

Callback windows - click a "callback" link and retrieve necessary data for callback/follow-ups. Schedule jobs from this screen also. Simple.

Quick Summary - see summary info. right on your home screen like sales numbers, forecasted income, unpaid invoices (how many and amt.), which prospects and customers need to be contacted, etc.

No Duplicates- When adding a prospect or customer, the software will search in the database first to see if the prospect/customer you're adding is already in your account. If so, then you'll be given an option to continue to add them or prevent them from being added.

Credit Capabilities- If a customer overpays on an invoice or prepays ahead of time, the software recognizes this and will apply the proper credit to the next and subsequent invoices.

Alert - Whenever a customer doesn't have a frequency period assigned, you'll be alerted. An Alert window is even provided that you can open up allowing you to set multiple frequency periods at once. A big time saver!

Plus Much, Much More! And let's not forget about...

Full Service and Support!

Support isn't really a "feature", but it should be considered as one. We're available by phone (850-476-0904) and we respond to all help tickets fast. We also provide one on one tutorials in half hour increments for those who might need some extra hand holding. Although The Customer Factor is extremely user friendly, any software product that is new to you will look a little foreign at first. So since our goal is to get you up to speed quickly, you'll never have to wander around figuring out how to do something.

What's coming up?

We're glad you asked. :)

Email Control Center - You can already do so much emailing within our software, but our aim is to make it totally hands off where you can set up the software to send out emails automatically with no intervention by you. For example, maybe you want to email invoices automatically at the end of the day for each job that was completed that day. Consider it done. Or maybe you want the software to automatically send an email to each customer the day before their scheduled appointment. Or maybe you want to schedule a series of emails to be sent at certain intervals to each prospect so that you can follow up with them related to the estimate you recently gave them. Set it up once and forget about it. Whew...we predict this feature will be a big hit when it's released.

General database (Searchable)- Within The Customer Factor you can upload documents and photographs for any prospect or customer, but maybe you want to upload other things like company documents or training manuals. With this upcoming feature you'll have the ability to upload anything you want into a general database where you and/or your employees can search for it and access it when needed.

Iphone/Ipad App- We have a universal app being worked on now. You can access The Customer Factor no problem at all in any mobile device currently, but we've had some requests for a specific iphone/ipad app, so we'll have it completed soon. Initially the app will provide scheduling and calendar functionality, but right after the first version is released we'll be adding additional functionality like printing/emailing invoices for example.

We've been doing this now since 2004 and you would literally not recognize our software today vs what it was back in the early years. Our goal is to jam pack The Customer Factor with so many useful features and so much functionality that our members will never have to do any tedious, time consuming, manual work to support their business ever again. Our software already automates most of the tasks you currently perform in your business. It's what has made The Customer Factor the "go-to" software for service business owners and managers alike!

Bonus ** Bonus ** Bonus

As if all the features within The Customer Factor isn't enough, we've decided to "sweeten the pot" as they say. And that's what this bonus is all about. So here it is: Members can enjoy FREE website hosting for their websites! How much are you paying to host your website now? Put that money back in your pocket and we'll host it for you on our dedicated and secure servers...For Free! If you don't have any web hosting yet because you don't have a website, we've even included TWO point and click website builders with your free hosting plan. Choose one and build yourself a fabulous looking website. This bonus is just another value added benefit you can enjoy as a member of The Customer Factor!

I still know service business owners who are operating their businesses like their time is worth nothing. They use spreadsheets, push papers around, manually fill out invoices, etc. So if this is you, how much is it worth to be able to streamline and automate everything related to your service business?

What's it worth to be able to gain the repeat business from dozens of customers (customers that might normally fall through the cracks) because of the simple search/follow-up features within The Customer Factor? And how many hours can be put back in your time bank because of just this one benefit?

What's it worth to be able to take your forgotten prospects, insert them into The Customer Factor, and then eventually turn them into money paying customers who come back again and again?

And what's it worth to be able to finally eliminate the need for expensive accounting software and contact management software, PLUS the yearly updates (along with update fees)?
Based on our initial and ongoing investment, time, and effort put into the development of The Customer Factor, it's easily worth $60 to $70 per month. That's a drop in the bucket when you consider what this software can do for your service business.
But here's what we decided to do…
We've decided to make The Customer Factor available for a fraction of what the true value is. I want every service business owner or manager to be able to experience and afford it. Perhaps you're just getting started in business and don't have a lot of cash flow yet.
So right now, The Customer Factor is priced at a low, low $34.95 a month.
No set up fees...
No hidden costs...
No short term contracts...
No long term contracts...
And you can cancel at anytime...
My own personal belief is that there should be no barriers to entry if someone needs software for their business. So at $34.95, the biggest barrier (price) has just been eliminated. But also understand that we're a business. We put a HUGE amount of money and resources into continuing development. So this price point is a win-win for everyone. We're able to introduce new features regularly and you're able to enjoy and benefit from a software program that'll truly take your business to the next level.

We all have a lot of expenses and costs to deal with on a regular basis. Unfortunately the vast majority of the dollars we spend go right down the tube. Bills, bills, and more bills. The Customer Factor on the other hand is a "must have" investment in your business. This isn't just a software product that helps you "manage". It's a software product that'll help you GROW! Click here (opens in a new window) to see how one business owner doubled her business using The Customer Factor.
Lock it in…
Wanna know how to whap inflation in the mouth so that your pricing never goes up? Click on the "Join Now" button below. If you join today, you will be grandfathered in and guaranteed to never get a price increase. Ever! As you know, everything is going up-food, gas, utilities, credit card charges, etc. etc. The norm would be for us to follow the crowd and raise our pricing too. Nope. As more and more features are introduced into the software though, our pricing will most certainly rise to keep up with the value provided. But this applies to new members only. Your $34.95 pricing will never budge!


We are so confident that you'll be extremely pleased with The Customer Factor and what it can do for your business that we offer a totally risk-free way for you to check it out. Take 30 days to run it through its paces. You'll have access to all of the full-blown capabilities of The Customer Factor. Insert prospects or customers, create some invoices, use the search features, personalize some documents-whatever you can think of, feel free to do it. If at any time within 30 days, you want your money back for ANY reason, send us an email or call our office and we'll issue you a full refund pronto!

| | |
| --- | --- |
| | Click the "Join Now" button below. You'll be directed to a page where you can choose your subscription period and payment type. |
| | Create a username/password and fill in your billing information on our ultra secure payment page. |
| | Shortly after this is done, you'll receive a "Welcome to The Customer Factor" email with your newly created login details in it. |
| | Log on and start experiencing and benefiting from The Customer Factor. |
That's It! Easy as 1...2...3...4!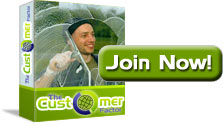 This webpage is getting pretty long, so I'll end it here by simply saying: Make the right move for your business and grab The Customer Factor today! If you do, you will soon be reaping the many rewards. I'll see you on the inside.
To Your Success,



Steve Wright
President and CEO
TheCustomerFactor.com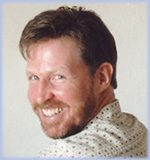 P.S. The Customer Factor is a superb software product that has been built from the ground up to make your business more streamlined and more productive then it is. But if you're not really convinced of that after reading above and viewing the "behind the scenes" video, this is why we offer a risk-free trial. Try it out and see if it fits. If it doesn't, no harm done. The chances are great though that if you own or manage a service business, The Customer Factor is the answer you've been looking for.
P.P.S. As mentioned above, as we continue to add new features and functionality to The Customer Factor, our pricing will increase. That's an absolute fact. We've already been told by many of our members that we're too underpriced. Once someone gets inside The Customer Factor and they start using it regularly and they see what it does for their business and how much time they save and how much more professional they can conduct their business, they quickly realize what kind of value they're getting. If you don't see the value, then please reread the above feature list again. :)
So...don't put off this decision too long. You could come back tomorrow or the next day and find that the pricing has jumped to $44.95 or even higher. Even at the price, $44.95 monthly for The Customer Factor is still a bargain, but saving money is always a good thing, so if you're needing a quality software program as your partner in business, we encourage you to make a move right away. As a reminder you're grandfathered in, so once you're signed up at 34.95, regardless what we bump our pricing to over the years to accommodate the increased value, your pricing will remain the same!
P.P.P.S. If you have additional questions, check out our FAQ webpage (opens in a new window). Some good questions have been asked about The Customer Factor over the years, so I've posted them on this webpage. And we're always here by Email or phone (850-476-0904) if you have additional questions or need assistance.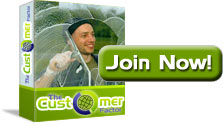 P.P.P.P.S. Towards the top right of the webpage that you're reading now, you may have noticed a scrolling area that displays a few comments that current members of The Customer Factor have sent in. My inbox is overflowing with more comments from members though, so I've pasted some additional comments below...
"..You and your program have been one of the most important resources I have found in building my business..."
Steve,
I have been using your program the customer factor for about 6 months now, its inexpensive and works really well for me, I highly recommend it to anyone who needs a customer software program.
You've also given me unparalleled support and advice on running a business, Im always surprised how quickly and thoroughly you answer any questions I have about any facet of my business.
I really get the sense that you care and want to help window cleaners have the best possible business that they can create. Working with you has been a source of inspiration through tough moments.
You and your program have been one of the most important resources I have found in building my business to date.

Have a great weekend!

Aaron Swanson
Clear Vision Window Cleaning
San Anselmo, California
"...you have built us the best window cleaning software out there."
Steve,

Your product is a very special application, and you have built us the best window cleaning software out there. I really love the fact that the customer factor is a web application that can be seen from any browser. I can even open and modify my customers right from my iPhone. The best thing was tax time, and doing a printout summary for my taxes. It made it very simple for my accountant. Thanks Customer Factor, Thanks Steve,

Dave Levitt
Raleigh, NC
"...it has been like a reliable business partner."
Just when I thought that The Customer Factor was perfect Steve, you make it better. The only thing better than the program itself is the support that is provided. Despite my lack of basic computer knowledge, You have always taken care of me with wonderful articulation and patience. For the record, my "issues" were never "Factor" related. It turned out that I had problems with my computer. The "Factor" has been awesome!

I find that I rely very heavily on "The Factor". In fact, it has been like a reliable business partner. A web based system really has some nice advantages too.

Thanks for everything Steve.

Don Cahill
PaneLess Window Washing
Pennsburg, Pennsylvania
In reply to a new feature announcement:
"...I will keep referring you wherever I can..."
Steve, I love the new feature on the calendar where the prices don't print. This will add years to my life in terms of employee complaints. Happy, happy, happy. Trust me, I will keep referring you wherever I can because your product and service is more than good. And I can't say that about too many people. In fact, I'm gonna work on that this afternoon.
Susan Buckley
Mrs Green Clean
Fort Mitchell, Kentucky
"...I'm supremely pleased with all that you and the Customer Factor have to offer..."
Hey Steve,
From the very beginning I have received nothing but top-notch customer service from you. You are always manning the phones when I call with a question. I have called several times with suggestions for the Factor & have found not only are you open to my ideas but you actually have implemented several into the software.
I'm supremely pleased with all that you and the Customer Factor have to offer. This program helps to set my busy mind at ease. I firmly believe that this program should be one of the first tools in a window cleaners business building arsenal be it a new start up or a seasoned professional. They will find order and more time to spend on things that are more important.
Many thanks Steve,
Ken Maine
Maine Window Cleaning
Allendale, Michigan
"...The Customer Factor makes my job run 100% better..."
Dear Steve,

I just wanted you to know how GREAT the Customer Factor is. I don't think I could do my job without it. The Customer Factor makes my job run 100 % better. It's a FANTASTIC Service! I had no experience before hand. Your service and software made every aspect much easier to understand and do. The billing and invoice are a breeze now. Keeping track of my appointments and reminders is all done for me, and there is just so much more. Thank you. You're a life saver!

Sincerely,
Joyce Osgood
All Shine Window Cleaners
Epping, New Hampshire
"...The Customer Factor is a must-have for anyone in a service oriented business..."
I have absolutely zero idea what we'd do without the Customer Factor software. It is easily the single best investment we've ever made in our business. It is extremely easy to use and works very well on my mobile phone which is a huge positive for us since we're constantly in the field.
Truthfully, we've only scratched the surface on all the ways that we could utilize it but that's something I plan on spending some time on with Steve this winter. There's a lot more we could do with it now than there was four years ago when we started this business.
The other huge plus is Steve himself. I've never once had a problem getting him on the phone to help me out if I have a question and he's always got more answers than I have questions. :-) I can't recommend this highly enough. The Customer Factor is a must-have for anyone in a service-oriented business.
Bill Forbrook
My Brightview
Hudson, Wisconsin
"...I am regularly amazed with the features you have."
Hi Steve!
Do you know how awesome you are?! I've said it before and I'll say it again: I LOVE THE CUSTOMER FACTOR! I am regularly amazed with the features you have. I don't use everything you offer, but when I discover I am ready for the next option, you are already working on it or it's already available to me. And I truly appreciate your quick responses and great attitude. =)
Thank you so much for answering my questions. I am super excited about the fact that your programmer is working on a duration option (update: duration feature is done) in the scheduling. That will be very helpful in our transition. It's going to save me so much time! YAY
I spent just a few minutes on the daily calendar, after your suggestion, and can already see that will be the method we use for scheduling appointments. Thanks! And how awesome is the view on map option?! Somehow I must have missed the fact that I could do a search for a report based on marketing method. haha That is so simple. Can't believe I missed that one. Is that a new feature? ;) I hope you have a great weekend too!
Cati Cosper
Island Chem-Dry
www.IslandChemDry.com
Oak Harbor, Washington
"...your software has been a great asset to my company..."
Steve,
I have been using "The Customer Factor" now for about 7 months and have great luck with it. I used a standard invoicing system for about 2 years before this but it was just not structured well for my business.
With the customer factor I can do so many other parts of my business in one stop now. I have had a few questions on it over the past few months and you have answered the phone every time I called and been very helpful with all of my issues.
Thanks Steve, your software has been a great asset to my company!
Kelly Matteson
Window Pros
Watertown, South Dakota
"...100% more organized and operating with 100% more efficiency."
The Customer Factor has our business 100% more organized and operating with 100% more efficiency. We've now completely eliminated our stacks of index cards and lengthy Excel spreadsheets.
The Customer Factor has allowed us to consolidate all of our customer data into one system and, in the process, greatly streamline our operations. As a former Project Manager for a software design firm, I have a true appreciation for the flexibility and ease-of-use that the Customer Factor brings to the table.

Best,
Chris Juricich
North Versailles, Pennsylvania
"...it seems like you really work overtime at helping your customers succeed."
I have to say that after watching a training video on the old version of the customer factor... WOW did you do a great job at redesigning the look of a great program at it's core and giving it the look to match it's great functionality.

I appreciate all that you have been doing, it seems like you really work overtime at helping your customers succeed. Now I know it is a business for you and there is a living made through it, but at the same time you just have an extra ordinary level of dedication for your work that I honestly have not ever found anywhere else. So my hat is off to you, thank you for all you do...

Sincerely,

Nicholas Menke
President and CEO
Cleanview Window Cleaning
"...the time savings that The Customer Factor is providing to me and our dealers is worth 30 times more than the price of it each month..."
Steve we are really happy with the choice we made to use your software. Its awesome and the time savings that The Customer Factor is providing to me and our dealers is worth 30 times more than the price of it each month. Well done.

I am running right now a 350,000 population route in 8 different cities from your program-again...awesome!!!
And I have been talking your software up on the world window cleaning. I will keep talking it.

Raving fan,

Mike Draper
Bloomington, Illinois
"...It is loaded with well thought out features..."
Hi Steve,
I signed up for The Customer Factor in 2006 and from day one never had a problem using it. If I could write a window cleaning software for my business, it would be exactly like this one.
I'm glad you've already done the hard work! It is loaded with well thought out features that makes scheduling and tracking of all my customers easy. And the learning curve was simple.
Along with a great program, what you share anytime I ask for your help makes the software a double bonus.

Brad Carey
Brad's Window Cleaning
Rockford, Michigan
"...Your software is the best we have tried..."
I am completely blown away by what you have created with The Customer Factor. I am cruising through data entry and have never found any software as easy and as detailed oriented as this without the severe learning curve or hassles.

...Finally someone nailed it when it comes to allowing us to enter and retrieve the info Maid Services need in order to schedule and track staff and clients and income. My office support, Jen, is loving using it. It is the little touches such as: the saa (same as above), how easy it is to create and credit an invoice, a remarkable calendar that keeps visible track of everything including gross receipts for the day- simply remarkable.

The generous customer notes fields allow us to effortlessly cut and paste from work orders and enter client information into the fields that did not export perfectly from QB. Making changes to anything is extraordinarily easy compared to other software we have tried. Your software is feature rich, super easy to use. I am too busy growing a small cleaning empire to hassle with ineffective software that only does 1/2 of what I need. Your software is the best we have tried and used for managing our mid sized employee based cleaning company. You may share my comments. I am a happy, happy customer!
Angie York
Maid To Detail House Cleaning
Vancouver, Washington
"...We have never been let down by The Customer Factor and are planning future growth based on many of its features..."
I own a house cleaning and carpet cleaning company in Spokane Washington. We have been using the Customer Factor for over a year now. I am simply amazed with how it has simplified and streamlined our business processes. What use to take hours every week is now automated, so instead of spending my time with data entry I spend my time connecting with my clients and training employees. Hands down, the Customer Factor has given me the ability to grow my business and focus on the future! The customer service provided is top class, it doesn't get better than this! Steve has actually inspired me to have better customer service with my own clients. Thank you Steve and to the whole Customer Factor Team. You guys are AMAZING!
Tiffany Richardson
Clean Green
Spokane, Washington
"...This is a must-have tool for the person who is serious about growing a successful window cleaning or service-oriented business..."
Time is a valuable commodity for me, so when I began my window cleaning business I made the decision to use The Customer Factor from the start. I have not regretted it for a moment.
There is no way I could effectively & efficiently manage my growing customer base without The Customer Factor. Its ease of use, scheduling & calendar features, and "over the top" customer support continue to save me valuable time each and every week. This is a must-have tool for the person who is serious about growing a successful window cleaning or service-oriented business.

Dale Pittman
Wake Forest, North Carolina