Congratulations on your decision to join The Customer Factor! An email should be arriving in your inbox soon. It'll contain your username and password which you just created. If you don't receive this "Welcome to The Customer Factor" email, check your junk folder. If it's not there, then please contact us right away.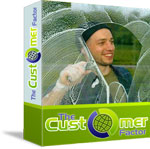 We added your email address to our database so that we can keep in touch with you concerning news and updates that take place in The Customer Factor. And check out the "Announcements" section regularly which you can view on the home/quick summary screen when logged into your account. In this area there are intro videos available, news on upcoming features, and much more!
As a reminder, it makes no sense to keep The Customer Factor on the sidelines. Fire it up and start benefiting from it. Take advantage of all the built in automation. You will truly experience an easy, no-hassle way for you to manage your service business, impress your customers with your follow up and communication skills, and increase your profitability ($$).
And finally…we value member suggestions on how we can improve your experience with The Customer Factor. That's how the software has grown over the years. Hundreds of new features have been introduced since we first launched in 2004 including 3 brand new redesigns. So if you think there is a feature that could benefit your business, and it's not in The Customer Factor already, please let us know.
See You on the Inside!


Steve Wright
President and CEO
TheCustomerFactor.com