How to Get Email Addresses
This is just a quick post about how you can go about securing email addresses from your prospects and customers so that you can take full advantage of our recently released email feature. Some times folks may not be so willing to give up their email address because they're afraid of being spammed.
Let's assume you just did a job for a customer. I would say something like this to the customer:
Brenda, we like to stay in touch with our customers on a regular basis, and one of the best ways we've found to do that is via email. I promise to only send you an email when we have some news to share, so would you mind providing us your email address?
By saying something like above, you're not committing to anything. You're not promising them a newsletter, you're not promising them future discounts, etc. etc. If you say it just like this, the customer shouldn't have a problem with providing you their email address.
If you've already done the work, but you've never asked for email addresses in the past so you now have a bunch of names in your account with no email addresses, then you can send them a letter or even call them on the phone. If sending a letter, you can do this directly from within The Customer Factor. When calling or writing, I would promise them something. I personally would offer up a newsletter.
A newsletter is something where the perceived value can be high, but as mentioned in this email tips post, it shouldn't take much time at all to put together. And who says you have to do it every month? Maybe just a quarterly newsletter. And again, I'm talking about a simple 1 or 2 page pdf that you send 'em. I've seen fancier newsletters put out by service business owners with photos and things like that, but I personally would keep it simple.
I suppose you could write and/or call and just ask for their email address, but I'm not sure how successful you'll be doing that w/o promising them something in return.
Another idea is to write or call and let them know that you put together a free report and you'd like to send it to them via email. For example, if you're a window cleaner, you could create a free report called "5 Ways To Keep Your Windows Shining Year Round" or "The 3 Best Solutions To Remove Spots On Your Windows" or "4 Strategies to Make Your Windows Factory New Again". Just some ideas, but you get the idea.
You see free reports all over the web. You provide your email address and in return that website/webmaster sends you a free report about whatever it is you've agreed for them to send you. Everybody wins.
As far as prospects, the best way to handle getting email addresses from prospects is to also offer them a free report. These are folks that haven't used your service yet so that's why their prospects. So they definitely need some kind of freebie. If you call 'em up during your next follow up call and they still are on the fence about using your company, just say something like "Brian, I'd love to send you a free report I just created called "5 Ways to Keep Your Windows Shining Year Round". I really think you'll benefit from it. Go ahead and give me your email address and I'll shoot it right out to you." Bingo. You now have their email address. 🙂
Take care for now.
Regards,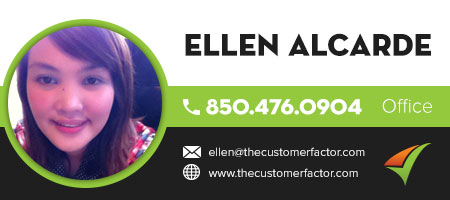 https://www.thecustomerfactor.com/login.php